자동차의 기능 테스트를 보다 효과적으로 측정 할 수 있게 지원하는 전문 솔루션입니다.
주요 사업
차량용 이더넷

V2X

자동화

GNSS

WIFI

고속 이더넷
SPIRENT C50 Appliance with SPIRENT Test Center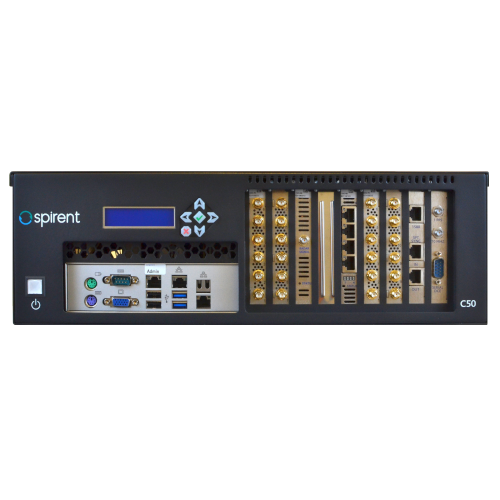 100/50/40/25/10/1GbE 다중 속도 성능 포트를 제공하는 Spirent C50 Appliance는 동급 최고의 시험 환경을 제공합니다. Spirent TestCenter의 레이어 2–7 트래픽 생성 및 분석기능은 강력한 네트워크 에뮬레이션 및 애플리케이션 트래픽과 결합되어 오늘날의 네트워크를 테스트하는데 필요한 최선의 환경을 제공합니다.
Solution Overview
The Spirent C50 Multi-Speed Performance 100/50/40/25/10/1GbE Appliance combines Spirent's industry-leading Layer 2–3 traffic generation and analysis with powerful network emulation and application layer protocols for emulating a wide range of device types, users and protocols. The C50 delivers the highest performance per dollar for Layer 2–7 testing in a compact 3U appliance form factor.
The C50 can be used in a benchtop lab environment where excessive equipment noise can be an issue for operators or in a traditional test lab environment. The C50's flexibility makes it perfect throughout the test lifecycle for functional, performance and benchmark testing of data center and service provider network infrastructure and evolving SDN and NFV technologies.
Applications
• SDN and data center: Validate forwarding performance and functional capabilities of Software Define Networks (SDN) with ultra-low latency and flexible port density. Supports key technologies like VXLAN, OpenFlow, PCE, Segment Routing and BGP-LS
• Device benchmarking: Test using IETF RFC 2544, RFC 2889 and RFC 3918 methodologies with easy test setup using dynamically bound traffic and automated wizards
• Core and edge routers & switches: Verify scale, reliability, performance of Layer 2 & 3 services including data, multicast, and video delivered via unicast routing, multicast routing, switching, and MPLS VPN technologies
• Carrier Ethernet: Verify scale, reliability, performance of Ethernet services delivered via Ethernet OAM, MPLS-TP, VPLS, PWE3 Psuedowires, bridged Ethernet, packet transport protocols, or combinations of these technologies
• Subscriber emulation: Verify setup & teardown of thousands of access subscribers using different services over various tunneling technologies (VLAN, L2GRE, MPLS, VPNs, VPLS, etc...) under normal or exceptional traffic conditions
Features & Benefits
• Multi-speed 100/50/40/25/10/1GbE SFP+/SFP ports for flexible interconnect options including Long Reach, Short Reach, DAC and 1000BASE-T
• Low noise for benchtop operation in proximity to users
• Traffic and protocol performance identical to fX2 mainframe test modules and fully interoperable with all Spirent TestCenter hardware
• Full chassis chaining and external timing synch available via direct connect, NTP, PTP, GPS, and CDMA • Full suite of Spirent TestCenter protocols and test packages are available